Two Months of Apple Arcade
Apple fixes videogames, Webflow's first conference, and AirPods Pro impressions
I wanted to start this newsletter off by talking about Apple's subscription gaming service, Apple Arcade. I got it as soon as it came out two months ago, and I am seriously impressed with it! Like, it's actually insane how many awesome games have come out on it already.
Back in 2008, shortly after the App Store first came out, that was a great time for mobile gaming. There were a lot of developers crafting fun, interesting, experimental games on iOS. This was back before in-app purchases existed, so if developers wanted to make money from their apps, they either had to charge up front, or feature advertising in the app itself. But some years ago, Apple gave developers the ability to release an app for free, and then subsequently feature in-app purchases to customers afterwards. This, I believe was the downfall of mobile gaming. It created an environment where the vast majority of mobile gamers got used to the idea of "free" games that were specifically designed to psychologically manipulate them into paying for addictive add-ons in the game that would make the gameplay less frustrating.
This is why games like Candy Crush and Clash of Clans have become so huge. It's not because they're quality experiences people pay good money for; it's because they literally use human manipulation concepts that casinos and the gambling industry mastered decades ago.
So anyway, since all this started going down, mobile gaming hasn't really been something that's interested me for the last few years. Before Apple Arcade came out, I honestly can't remember the last game I played on my phone.
It's now been two months since Apple Arcade came out and its basically like Apple has restored the old days of iPhone gaming with one software update. But made it even better.
Now, I only have to pay six bucks a month to have access to the entire list of games released on Apple Arcade. They've worked with lots of great developers on brand new games just for this service, and man I'm just super happy with it. Oh and the best part, almost all the games support a PS4 or Xbox One controllers, which you can now connect to your iPhone or iPad at the system level. This is how I've been playing most of the time. I also love that I can play them on my TV and pick up right where I left off cause your save files are synced through iCloud.
I feel like Arcade is off to a really great start? I'm really looking forward to the future of it. I just hope they can keep up this momentum, and that it continues to be a lively place with new stuff being added consistently.
---
I wanted to recommend a game for you guys just in case you wanted to try Apple Arcade out, but wasn't sure where to start.
I've had a couple freelance projects and other stuff I've been working on lately, but Guildlings is the game I've been playing here and there this weekend. It's… interesting and a little hard to explain. It's kind of like an RPG, but breaks the fourth wall in a lot of ways. The Verge (linked above) describes it like this:
The latest is Guildlings, a quirky fantasy adventure game developed by some of the minds behind Threes and The Misadventures of PB Winterbottom, which launches today. The RPG takes place in a world that blends high fantasy with modern day YA tropes; the creators describe it as "a world of wizards and Wi-Fi."
It is the type of game you might not decide to just buy, but when it's part of a subscription service it's a little easier to try something different.
For convenience sake, here's a direct link to the game on the App Store.
---
On Tuesday I'm heading to San Fransisco so that I can attend Webflow's No Code Conf. I'm super excited, because Webflow is my favourite design tool for building websites, and this is also their first conference so it feels special that I'm able to be there.
Webflow is a fairly new and small company, and their platform gives designers like myself the power to craft complex web layouts that you'd normally have to code from scratch. (Hence the name, No Code Conference.)
I just wanted to let you guys know about this, because going to a conference like this has been a dream of mine for a while, and it feels like a milestone that I'm almost able to cross.
I'll publish takeaways from the conference in a future issue of Something Else.
---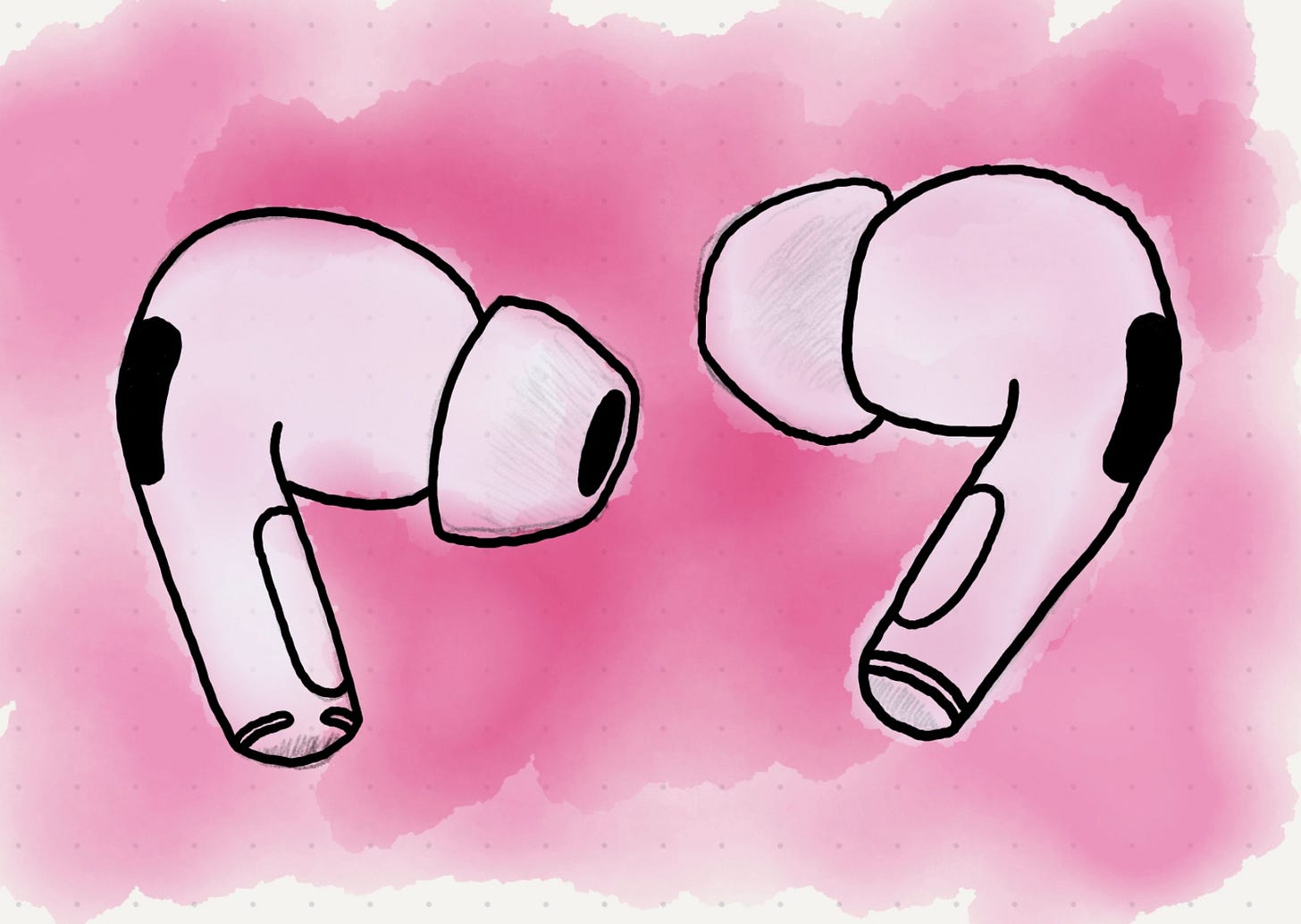 "Professional" AirPods?
I picked up the AirPods Pro this week cause I really wanted to try out the noise cancelling on the plane to the conference in SF next week. I've travelled with only the regular AirPods a few times before because I like travelling light. I was curious about all the new features and if they'd make a big difference in the quality of experience over the regular AirPods.
This tweet from Ryan Jones, developer of the Weatherline app, describes some of the features that intrigued me:
Do they do what they promised? Yes.
But I decided that I'm not going to totally switch to these new ones, I'm keeping the regular AirPods too. Though the "Professional" (lol) AirPods do what they promise they do, they lack the perfect simplicity of the original AirPods in two ways:
They suction into your ears, so you kind of always know that they're there. I couldn't just forget about them like I could with my regular AirPods

Having two new modes: Noise Cancellation and Transparency, is two more modes than the regular AirPods have. Maybe I'll calm down in the future, but right now I can't help but constantly switch between modes so I could see which one was more appropriate for the moment
If I had to pick one product, I'd choose the AirPods Pro because honestly the noice cancellation feature works great, and when you need it it's really nice to have. It does a fantastic job of muffling ambient noise, so they're perfect for open office plans, using outdoors, or anywhere you want to enjoy peace and quiet or hear your audio content better. Transparency, while cool, is not the "audio augmented reality platform" that some people are saying it is.
I'm going to keep the normal AirPods for home use as I like the way you just put them in, and forget that you're even wearing them. Technology is best when you don't even notice that you're using it. I haven't been able to experience that with the AirPods Pro yet.
---
A new design, and a new format
I've decided to implement a few changes to this newsletter. By moving to a cleaner, more distraction-free visual design, and a more off the cuff casual and varied style of writing, I hope to achieve something that's more easy to digest, and interesting, and more personal than previous issues I've published.
The biggest change is that as opposed to sending just one self-written article at a time, it's going to be more like this one. Expect more links, more discussion of the world from a tech perspective, and a also a more personal glimpse into me and my actual life.
Welcome to Something Else 2.0. I hope you stick around.